WFNMB - World Federation of Nuclear Medicine and Biology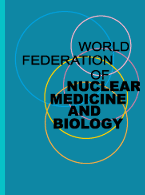 In 1970, at the third ALASBIMN Congress in Mexico City, the World Federation of Nuclear Medicine and Biology (WFNMB) was founded and its first authorities were elected: President Dr Hideo Ueda, Secretary General Dr Masahiro Iio and Treasurer Dr Sadakate Kato, all from Japan. At that time, the President of ALASBIMN was Dr Osvaldo J. Degrossi (Argentine) and the President of the third Congress was Dr Roberto Maass E. (Mexico). One of the more enthusiastic professionals in creating the WFNMB was Dr Joseph Sternberg from Montreal University, Canada.
The First World Congress of Nuclear Medicine was held in 1974 in Tokyo and Kyoto, Japan. This meant that new links were now forged between all Americas, Europe and Asia (especially Japan) and Oceania, and these were gradually strengthened in subsequent years.
The objectives of the Federation are:
To develop cooperation between groups, societies and associations formed on a national level and active in the role of Nuclear Medicine and Biology.
To promote the development of Nuclear Medicine and Biology.
To organise whatever commissions and meetings are necessary to attain such objectives, in particular convening specialists in Nuclear Medicine and Biology in a Congress of the Federation.
To prepare and recommend the organisation of a unified programme of teaching and training in the field of Nuclear Medicine and Biology.
To establish technical standards, to aid in the diffusion of knowledge and exchange of scientific and technical information by means of conferences, colloquia, symposia and courses on regional, national and international levels.
To publish, alone or in collaboration, monographs, studies, teaching courses, reports from conferences, colloquies, symposia and congresses concerning Nuclear Medicine and Biology.
To facilitate the exchange of scientists between the member groups, societies and associations and to set up a body which will centralise and help such exchange.
To represent with one voice all Nuclear Medicine activities to the World Health Organisation, the International Atomic Energy Agency and other appropriate organisations.
Web site: http://www.wfnmb.cl/