Key Contacts in Relevant Countries
National Societies Young Generation Networks
Across the world there are a number of National Radiation Protection Young Generation Networks. The IRPA YGN encourages the communication and collaboration of these networks both between themselves and our members.
A brief description of the networks is provided below, along with a relevant contact. Should your YGN not be featured and you wish to get it added to the list please contact: peter.bryant@edf-energy.com.
UK
Professional Body Name: Society for Radiological Protection
YGN Network Name: Rising Generation Group
Description of the Network and Key Activities
The UK SRP Rising Generations Group was founded in 2010 and is now 230 members strong. RGG run a number of initiatives designed to aid early career professionals, such as:
A mentoring scheme, whereby less experienced RP professionals are matched with senior colleagues in a similar field in order to gain advice and guidance;
Regular events on putting together your RPA/ RWA portfolio;
A special edition newsletter just for RGG members;
Opportunities to network with other early career professionals;
An annual social event at the RGG Dinner;
A chance to win the RGG Best Presentation Award at the Annual Conference, etc.
Links to the RGG social media feeds can be found here:
Facebook: https://www.facebook.com/srprgg/
Twitter: @SRP_RGG
Key Contact
Jess Revill (Chair of RGG)
rgg@srp-uk.org
France
Professional Body Name: La Société Française de Radioprotection (SFRP)
YGN Network Name: Youth Club
Description of the Network and Key Activities
The Youth Club has been rebooted by SFRP in 2016 after some years of inactivity. The Club gathers young professionals of less than 35, coming from various professional backgrounds, and motivated to discuss and exchange about various topics of radiation protection, at national and international scale, and also to promote the sector.
As such, one of the key missions of the Youth Club is to develop and ease possibilities of exchanges and networking between young professionals working in radiation protection, to favour and support their skill improvement (notably via the planning of Scientific Days) and to build constructive partnerships at national and international scales.
Further details can be found on our webpage:
http://www.sfrp.asso.fr/clubs/jeunes-societaires.html
Key Contact
Mr. Pedro Caldeira Ideias (Chair of the Youth Club, Institut de Radioprotection et de Sûreté Nucléaire)
pedro.caldeiraideias@irsn.fr
Mrs. Valerie Chambrette (Managing Director of the SFRP)
valerie.chambrette@irsn.fr
Japan
Professional Body Name: Japan Health Physics Society
YGN Network Name: Young Researchers Association
Description of the Network and Key Activities
The Young Researchers Association (YRA) of Japan Health Physics Society (JHPS) was established in 1987 by 7 volunteer members. As of April 2018, YRA was composed of approximately 40 researchers and engineers younger than 35 years old from various universities, research institutes and private companies. These members specialize in radiation protection, radiation measurement, and environmental radioactivity, etc. We have mainly 3 goals, firstly to exchange information and discuss latest knowledge via workshops and e-mails; secondly, to engage in educational and outreach activities on radiation to the public, and thirdly to cultivate domestic and international relationship with young people of other scientific bodies.
1) Study session: We have held on study sessions such as radiation measurement, dose evaluation, environmental radioactivity and even risk communication.
2) Outreach activity: We have ever taken part in Chiba city science festa that motivates children to learn science since 2010. Our exhibition in 2017 is as follows;
Measurement of radiation in environmental samples
Experience of radioactive pollution investigation using radiation survey meters
Observation of the radiation track using a cloud chamber
Website and Facebook are shown as follows
HP: http://www.jhps.or.jp/wakate/english.html
Facebook: https://www.facebook.com/wakate.jhps/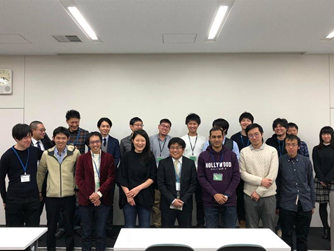 Key Contact
Dr Noriaki Kataoka (Chair of YRA)
kataoka.noriaki@iri-tokyo.jp